AWARDS
Super Elite Honours Remover
We have been awarded Super Elite Honours Remover. This is a tribute to the excellent work from all our staff since 1978.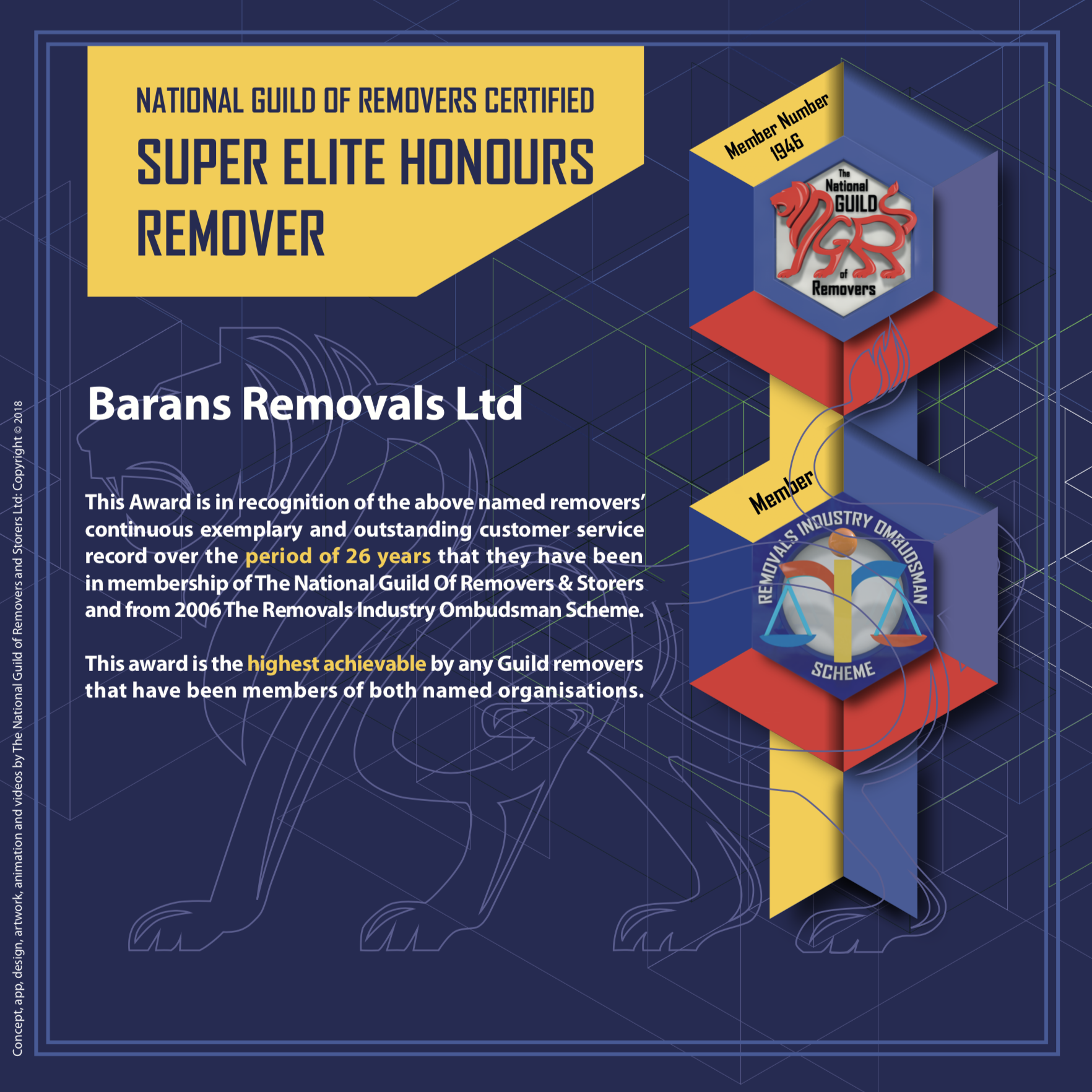 The Best Removals Company In Weybridge

If you are moving home and looking for a removals company in Weybridge, someone reputable to deal with your possessions, then come to Barans Removals. We understand that relocating is an extremely demanding time and that you only want to entrust your belongings to a company that provides a friendly and trustworthy service. This is exactly what Barans Removals Weybridge have been offering since 1978. The company that we've got is a family removals company that have been helping a lot of people in their moving necessities without experiencing any major problems that can spoil the entire procedure. Thanks to our extensive expertise of the Weybridge place, removals Weybridge is second nature to us. You can let us look after your valued possessions. Secure in the knowledge that we'll treat them with the most respect and care.

One phone call is all that is needed, and we'll make all the arrangements. Enabling you to spend time on the stuff that really needs sorting out. We will always be prompt in arriving at your new home and you can ensure that your goods and possessions will be safe and sound. Furthermore, there is no way we go missing on the road. We are on top of traffic incidents and road closures that are the reason why we are really acquainted with all of the routes in and all around the Weybridge area. With that said, your treasured possessions will completely arrive in your new location properly and in the fastest time possible.
Removals Company Weybridge

We help people move from their old home to their new one all over the south of England, such as Teddington, Chertsey, Hampton, Ascot, Oxshott, Cobham and Esher. We don't just carry out residential moves either. We are also expert at commercial moves, fully able to handle your business's large scale items. In addition, we are able to provide storage facilities and service, ideal if you are not planning on moving, but just intend to make some room in your home or office. So, if you're looking for a professional yet friendly service that guarantees customer satisfaction and puts as high a price on your possessions as you do yourself, call Barans Removals; the best removals company in Weybridge.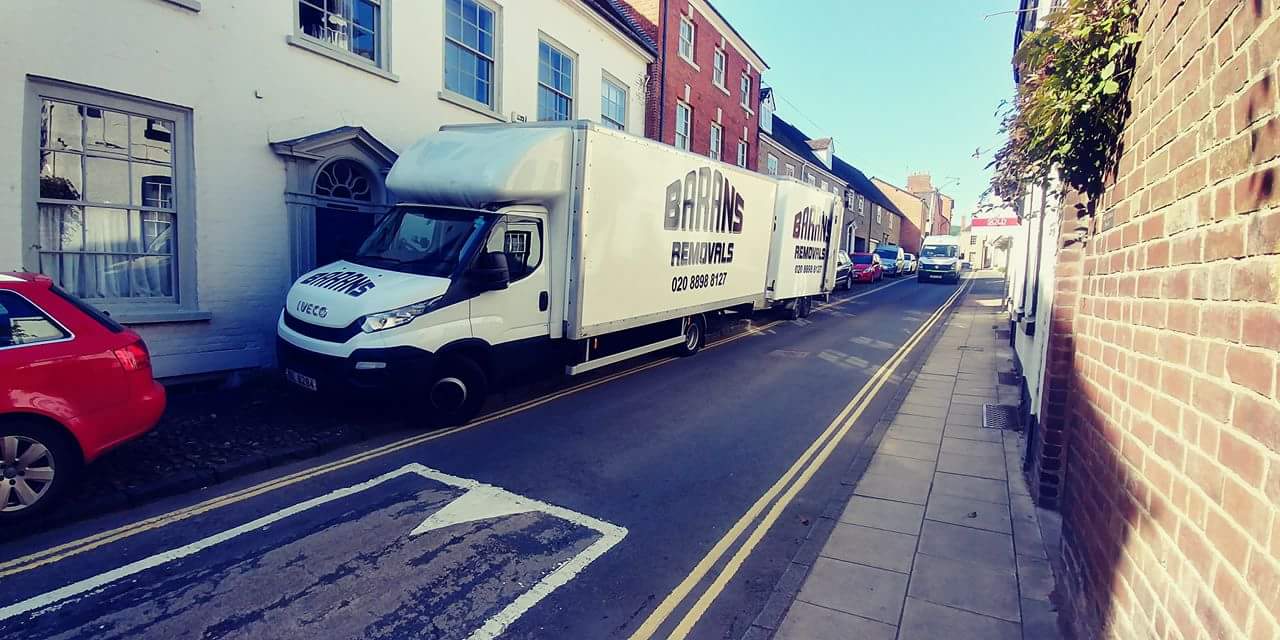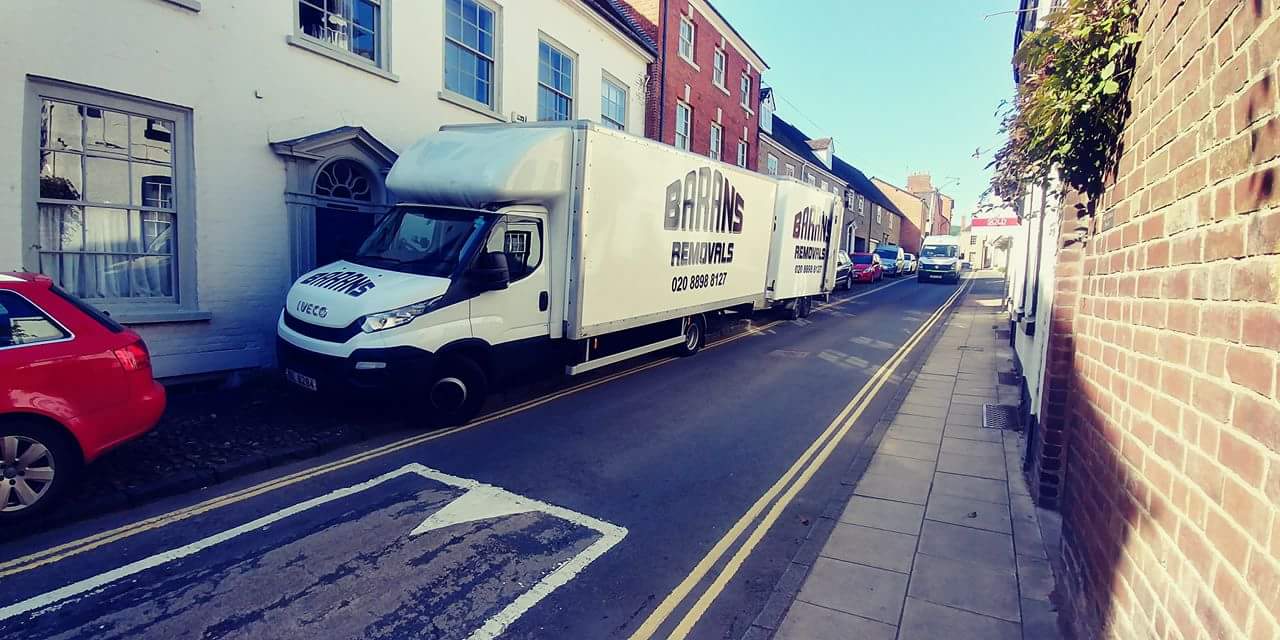 Facts about Weybridge
Weybridge is a town by the River Wey in the Elmbridge district of Surrey. It is bounded to the north by the River Thames at the mouth of the Wey, from which it gets its name. It is an outlying suburban town within the Greater London Urban Area, situated 7 miles (11 km) northeast of Woking and 16 miles southwest of central London. Real estate prices are well above the national average: as of 2008, six of the ten most expensive streets in South East England (defined as the official government region, which excludes Greater London) were in Weybridge.
Weybridge, based on its parish bounds, forms three wards of the United Kingdom or can be divided into the Thames Street and town centre area, the Queens Road area on top of Monument Hill, most of Brooklands and St George's Hill.