AWARDS
Super Elite Honours Remover
We have been awarded Super Elite Honours Remover. This is a tribute to the excellent work from all our staff since 1978.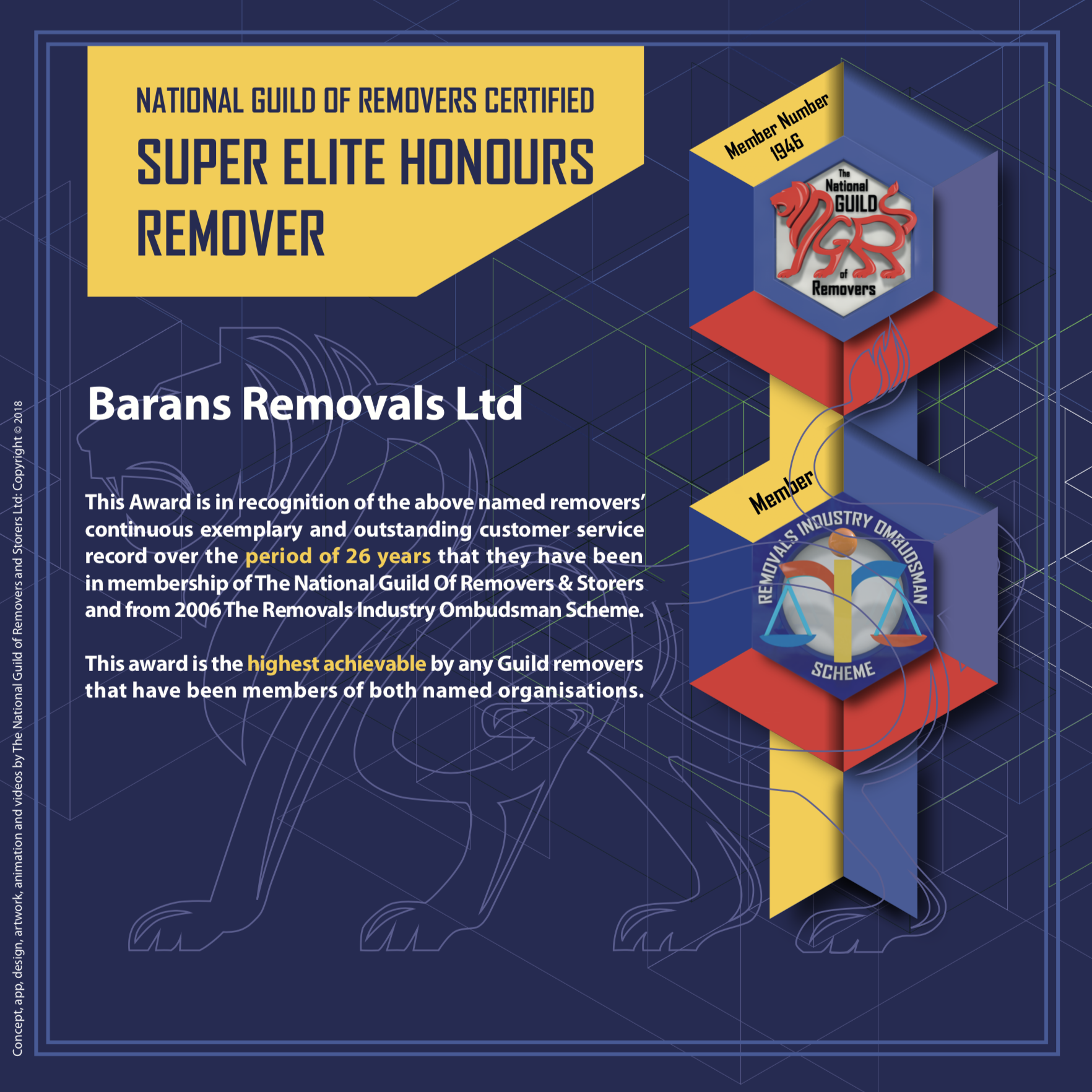 The Premiere Removal Company in Surrey: Barans Removals

Barans Removals in Surrey is a leading home removals company. We're already familiar with the area since we have been in this type of business since 1978. So you can feel confident knowing we will be able to find your address, even if it is in a far lesser known place!

Give us a call right now and set up an appointment with our qualified team members. Our representatives are extremely well-informed, and they will go through the entire moving process with you in great detail. They will also be more than pleased to answer any other questions that you may have.

Not only do we aim to meet your expectations but also exceed them by providing outstanding customer service. You'll definitely be hard pushed to locate another removals company in Surrey who are anywhere near as friendly, helpful or reliable as Barans! This is exactly why we have such an excellent track record and such favorable comments from customers.
Professional House Removal Company Surrey- Great Service!

In terms of house removals or commercial removals, Barans truly are streets ahead of the rest. We're incredibly well-known for our removals in Surrey for a number of reasons - our friendliness, our readiness, our qualifications and the fact that we have always put our customers first. Our dedication is reflection in our "UK Remover of the Year" award, which highlights our great reputation as a company that adopts a client-orientated ethos.

Need assistance with packing, dismantling furniture and unpacking again once you've arrived at your new home? Our removals company Surrey will make your moving process as easy as possible as we offer a variety of services.

We understand that moving from point A to point B is not a simple process; it is a journey - and Barans Removals wish to be there to help you each and every step of the way!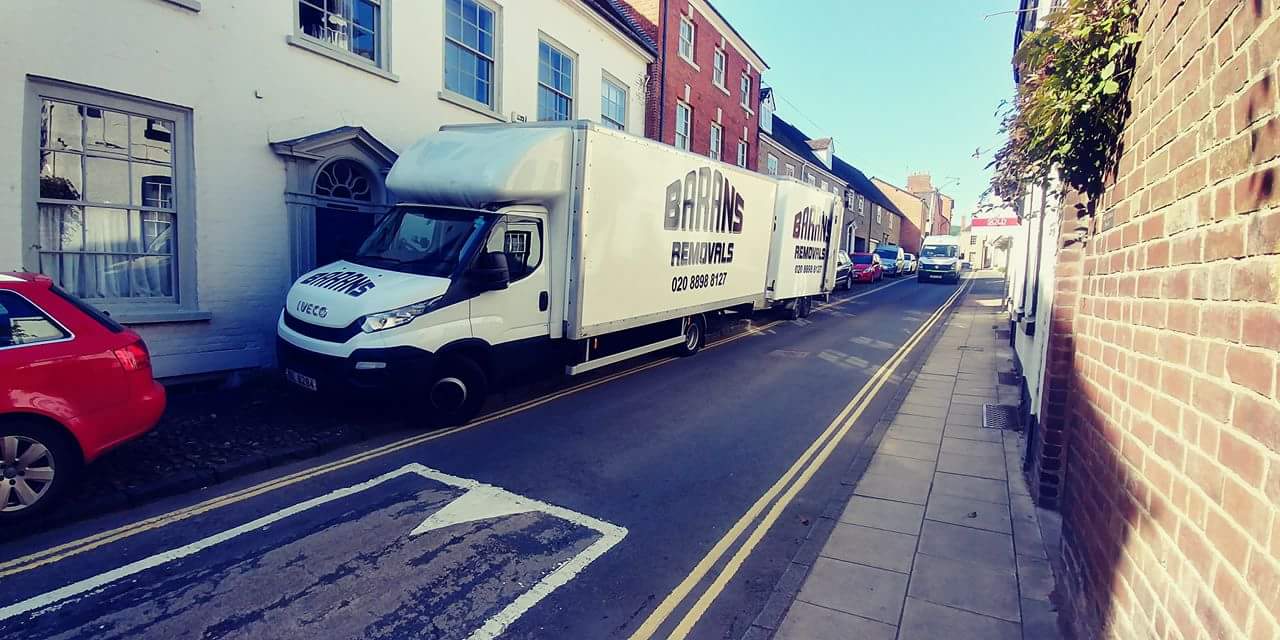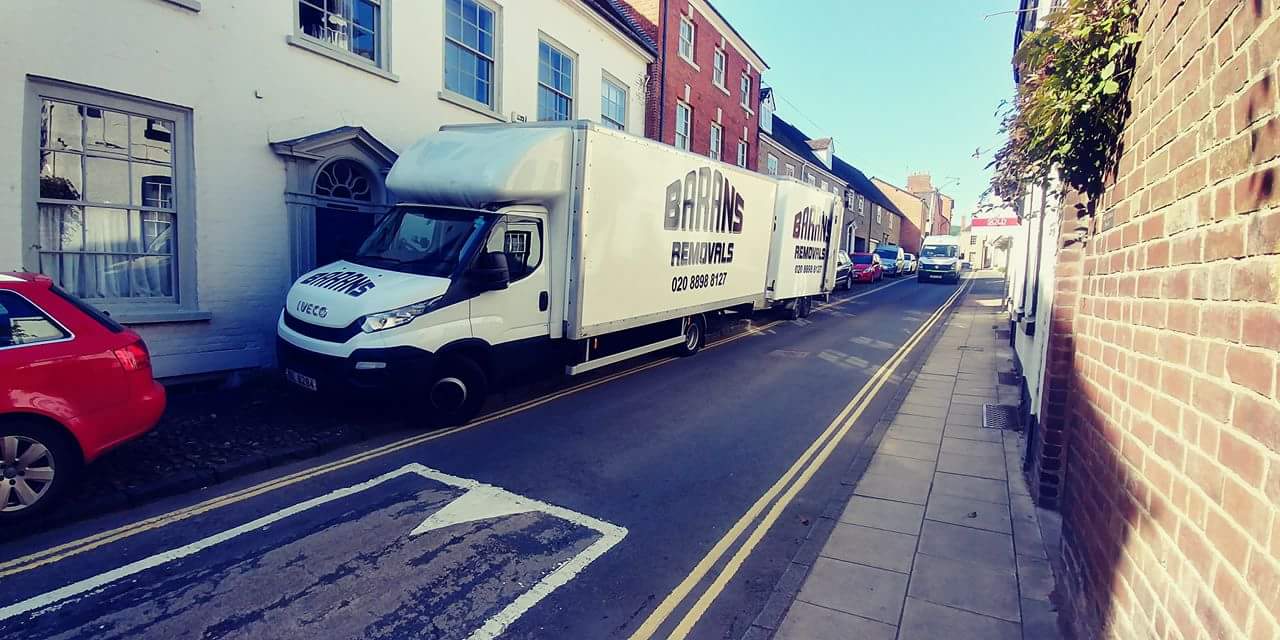 Facts about Surrey
Surrey is a county in South East England which borders Kent to the east, West Sussex to the south, Hampshire to the west, Berkshire to the northwest, and Greater London to the northeast. With about 1.2 million people, Surrey is the twelfth most populous English county, the third most populous home county, after Kent and Essex, and the third most populous in the South East, after Hampshire and Kent.
Guildford is the county town, although Surrey County Council is based extraterritorially at Kingston upon Thames. Surrey is divided into eleven districts: Elmbridge, Epsom and Ewell, Guildford, Mole Valley, Reigate and Banstead, Runnymede, Spelthorne, Surrey Heath, Tandridge, Waverley, and Woking.
The London boroughs of Lambeth, Southwark, Wandsworth, and parts of Lewisham and Bromley were in Surrey until 1889, as were Croydon, Kingston upon Thames, Merton, Sutton and the part of Richmond upon Thames on the right bank of the River Thames until 1965, when they were absorbed into Greater London, and the county extended north of the Thames by the addition of Spelthorne, as a result of the dissolution of Middlesex.
Surrey is a wealthy county due to economic, aesthetic, conservation and logistical factors. It has the highest GDP per capita of any English county, some of the highest property values outside Inner London, and also the highest cost of living outside of the capital.
Surrey has the highest proportion of woodland in England. It has large protected green spaces (such as the North Downs, Greensand Ridge and related Surrey Hills AONB and royal landscapes adjoin it — Windsor Great Park and Bushy Park near the River Thames). It has four horse racing courses, and golf courses including international competition venue Wentworth.
Surrey is close to Heathrow and Gatwick airports and the M25, M3 and M23 motorways and has frequent rail services to central London.