AWARDS
Super Elite Honours Remover
We have been awarded Super Elite Honours Remover. This is a tribute to the excellent work from all our staff since 1978.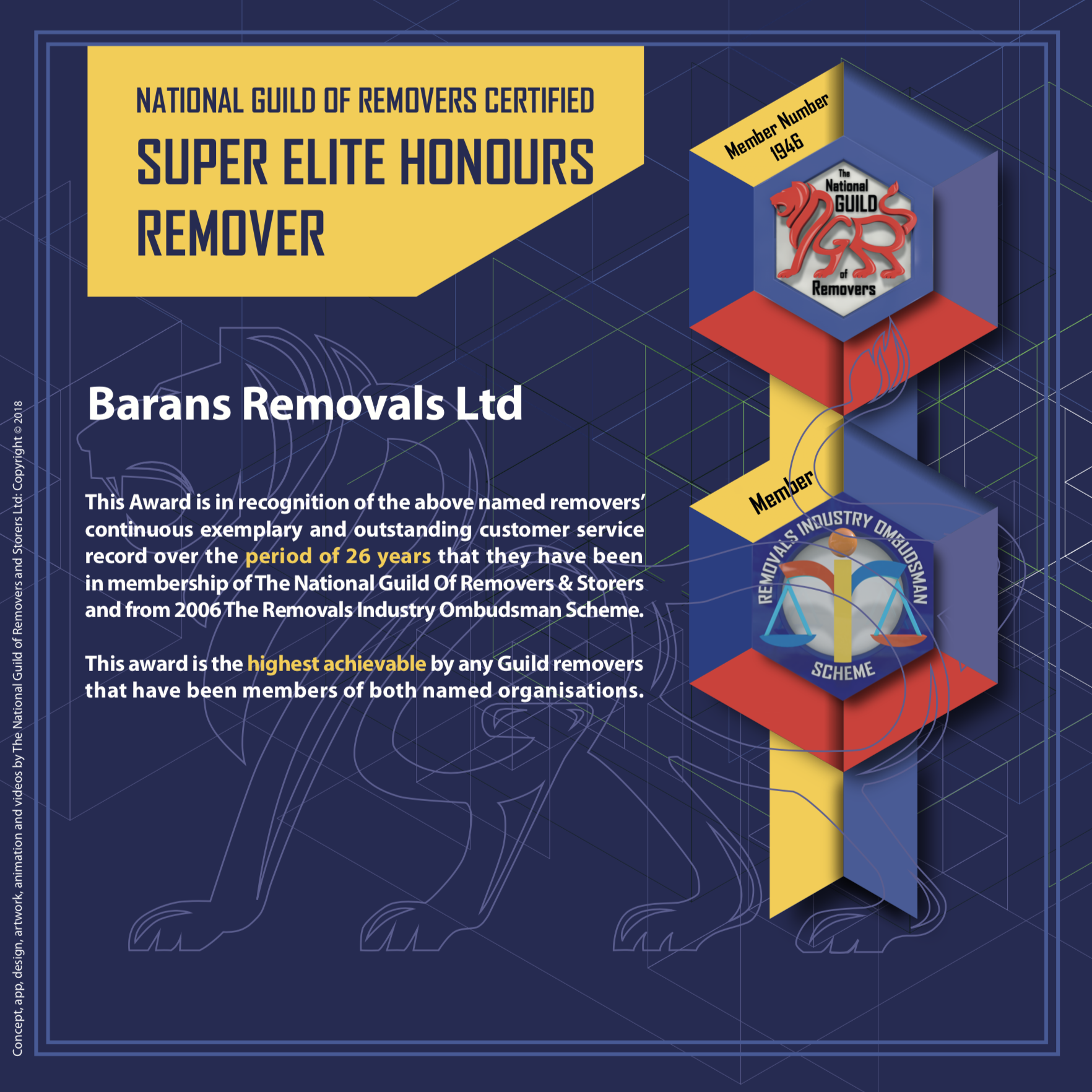 Removals For The Hayes Area – Barans Removals

Barans Removals is a family run domestic and commercial removals company established in 1978.
We offer a comprehensive and cost effective household and office removal service across the South East of England. Many of our customers are in and around Hayes, Uxbridge, Ruislip and Northwood. Our highly personal service offers peace of mind to all of our customers whether you are staying locally or moving around the world.
All our staff are trained, highly experienced and pride themselves on being friendly, trustworthy and professional.

Are you needing a short or long time period storage solutions in Hayes? Barans Removals can store your goods securely for any period of time that suits you. When you need to get them back, contact Barans Removals and one of our teams will deliver your goods and will place all of your personal effects where you need them.
Removals Company Hayes

When we say we move people in Hayes, we don't stop there. Our regular European service operates to all major areas across the continent. If you are planning a move overseas, you can invest in our shipping and airfreight service to any destination throughout the globe. Our international packers have years of export packaging experience and are dedicated to safeguarding your belongings during your move.

Rather than move everything all in one go, we also offer a storage service. We offer flexible solutions, so whether you want to store a little or a lot, our branch covering Hayes can explain the options available to you, call us now on 0800 195 8393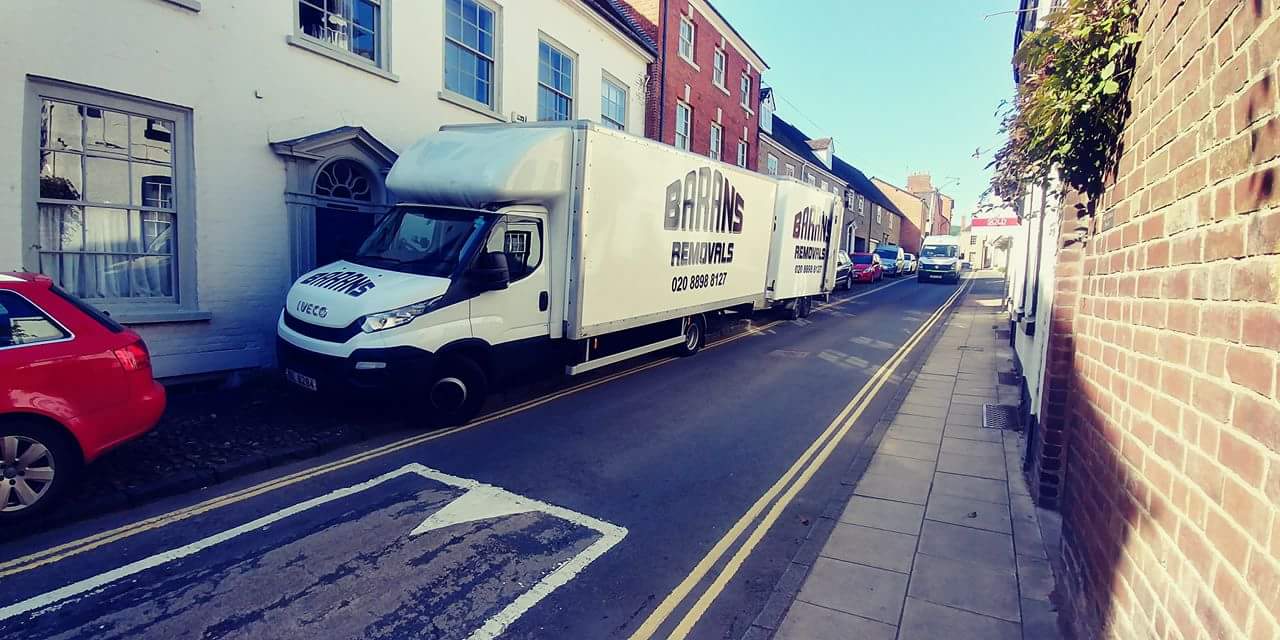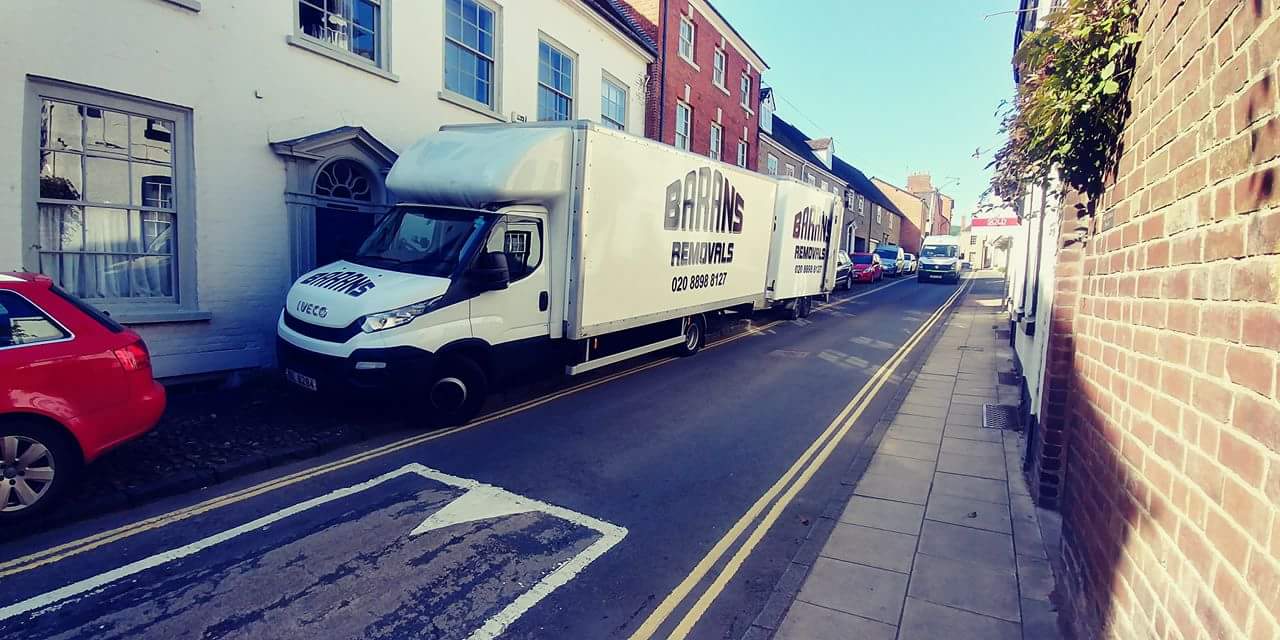 Facts about Hayes
Hayes is a town in West London, situated 13 miles (21 km) west of Charing Cross. Historically in Middlesex, Hayes became part of the London Borough of Hillingdon in 1965. The town's population was recorded as 95,763 in the 2011 census.
Hayes has a long history. The area appears in the Domesday Book (1086). Landmarks in the area include the Grade II* listed Parish Church, St Mary's – the central portion of the church survives from the twelfth century and it remains in use (the church dates back to 830 A.D.) – and Barra Hall, a Grade II listed manor house. The town's oldest public house – the Adam and Eve, on the Uxbridge Road – though not the original seventeenth-century structure, has remained on the same site since 1665.
Hayes is best known as the erstwhile home of EMI. The words "Hayes, Middlesex" appear on the reverse of The Beatles' albums, which were manufactured at the town's Old Vinyl Factory. The town centre's "gold disc" installation marks the fiftieth anniversary on 1 June 2017 of the Beatles' Sgt. Pepper's Lonely Hearts Club Band album, manufactured in Hayes in 1967. The town is the location of the U.K. headquarters of companies including: Heinz, United Biscuits, Fujitsu, and Rackspace U.K.
Notable historical residents include the early modern "father of English music", William Byrd, and a pre-eminent figure of twentieth-century English literature, George Orwell.