AWARDS
Super Elite Honours Remover
We have been awarded Super Elite Honours Remover. This is a tribute to the excellent work from all our staff since 1978.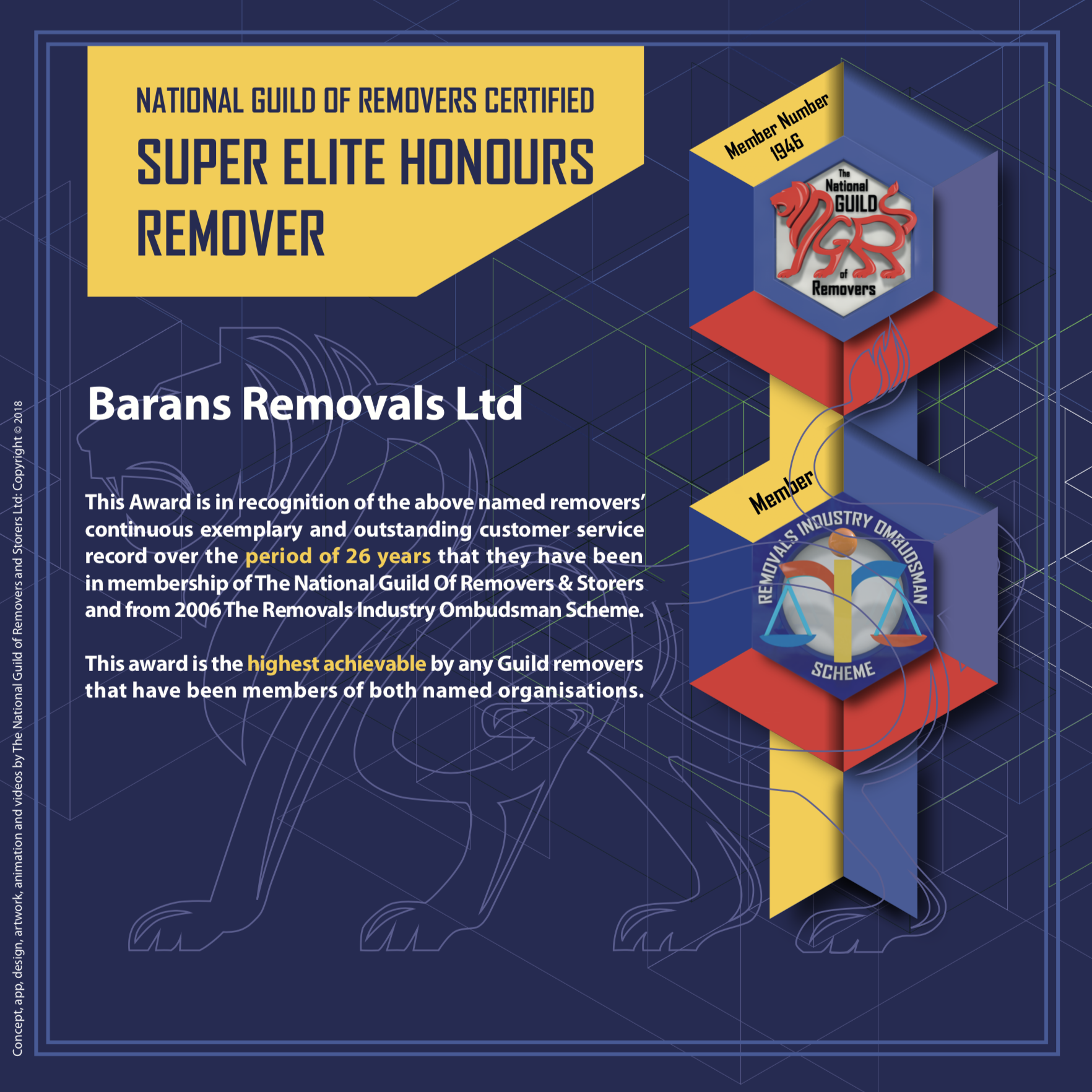 Find The Best Removals Solution In Esher

Our lorries are designed and built specifically for removals and used to protect and transport a variety of items including household and office furniture. They are equipped with the necessary materials to pack and move fine art and antiques safely anywhere in Europe.
We work for individual householders, businesses owners, designers and builders in Esher and the South East of England.

With over 40 years in the removals industry, Barans Removals has built up the knowledge and experience necessary to provide first rate removals, whether you're moving across town or relocating overseas.
Our expert movers are on hand to carry out full packing of your items ready for transit or storage, applying the same level of detail to both local and international removals.
Removals Company Esher

Barans Removals have been moving the residents of Esher and surrounding towns and villages for since 1978. Esher, a town in the borough of Elmbridge is just 14 miles south west of Charring Cross. It is renowned for being a prosperous part of the Greater London Area and is fortunate in having a great selection of private and state schools.

Residents of Esher looking to move house need a professional house removals company with experience of the area and the expertise to handle all aspects of the move. Barans Removals has built up a modern fleet of vehicles and has a team of full time staff trained to the highest standards.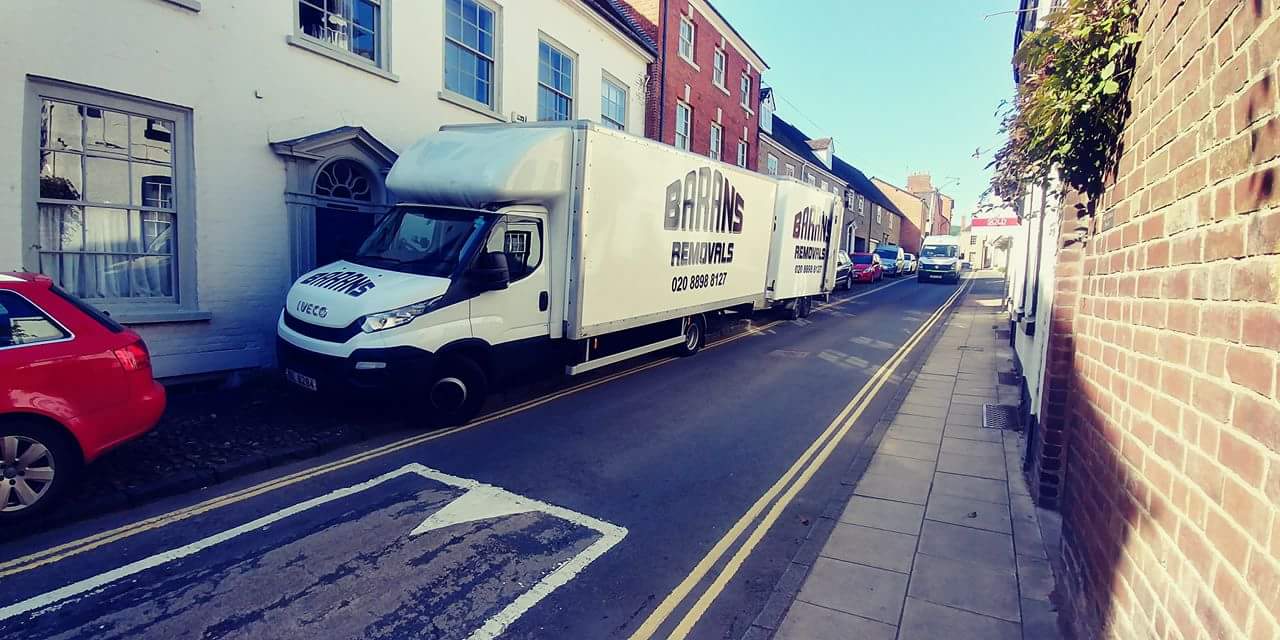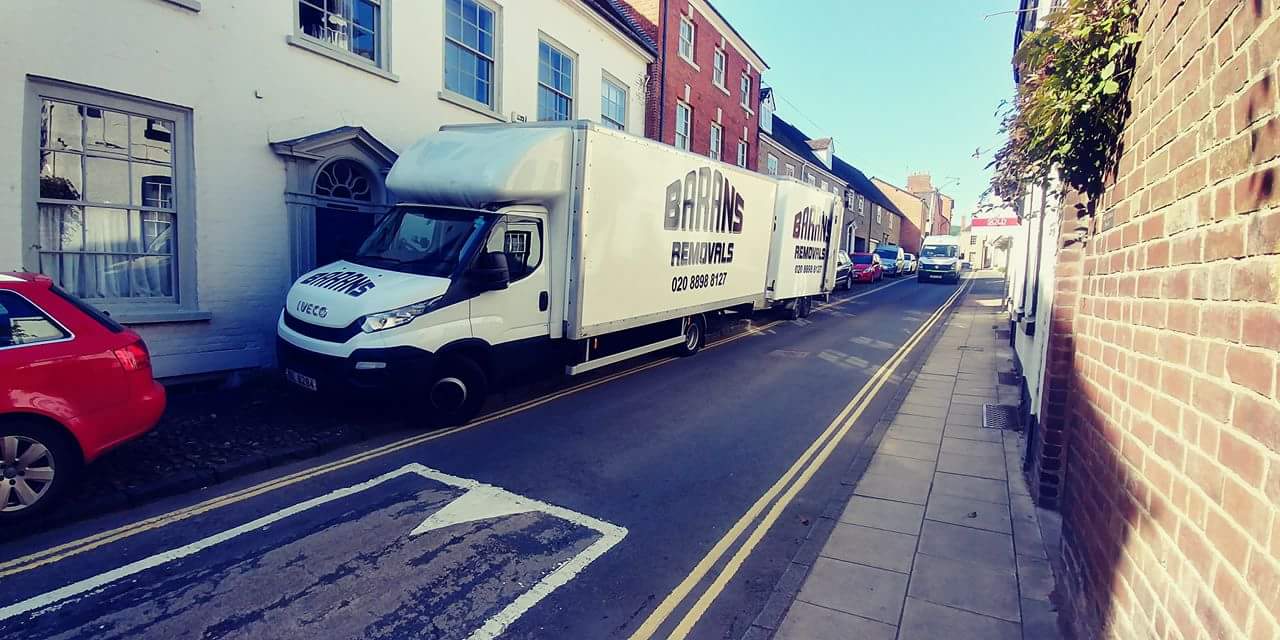 Facts about Esher
Esher is a town in Surrey, England, to the east of the River Mole.
Esher is an outlying suburb of London, and with Esher Commons at its southern end, the town marks one limit of the Greater London Built-Up Area. Esher has a linear commercial high street and is otherwise suburban in density, with varying elevations, few high rise buildings and very short sections of dual carriageway within the ward itself. Esher covers a large area, between 13 and 15.4 miles southwest of Charing Cross. In the south it is bounded by the A3 Portsmouth Road which is of urban motorway standard and buffered by the Esher Commons.
Esher is bisected by the A307, historically the Portsmouth Road, which for approximately 1 mile (1.6 km) forms its high street. Esher railway station (served by the South West Main Line) connects the town to London Waterloo. Sandown Park Racecourse is in the town near the station.
In the south, Claremont Landscape Garden owned and managed by the National Trust, once belonged, as their British home, to Princess Charlotte and her husband Leopold I of Belgium. Accordingly, the town was selected to have a fountain by Queen Victoria and has an adjacent Diamond Jubilee column embossed with a relief of the monarch and topped by a statue of Britannia. Unite, the union, trains representatives at its Esher Place centre, and the town has the offices of Elmbridge Borough Council in its high street.