AWARDS
Super Elite Honours Remover
We have been awarded Super Elite Honours Remover. This is a tribute to the excellent work from all our staff since 1978.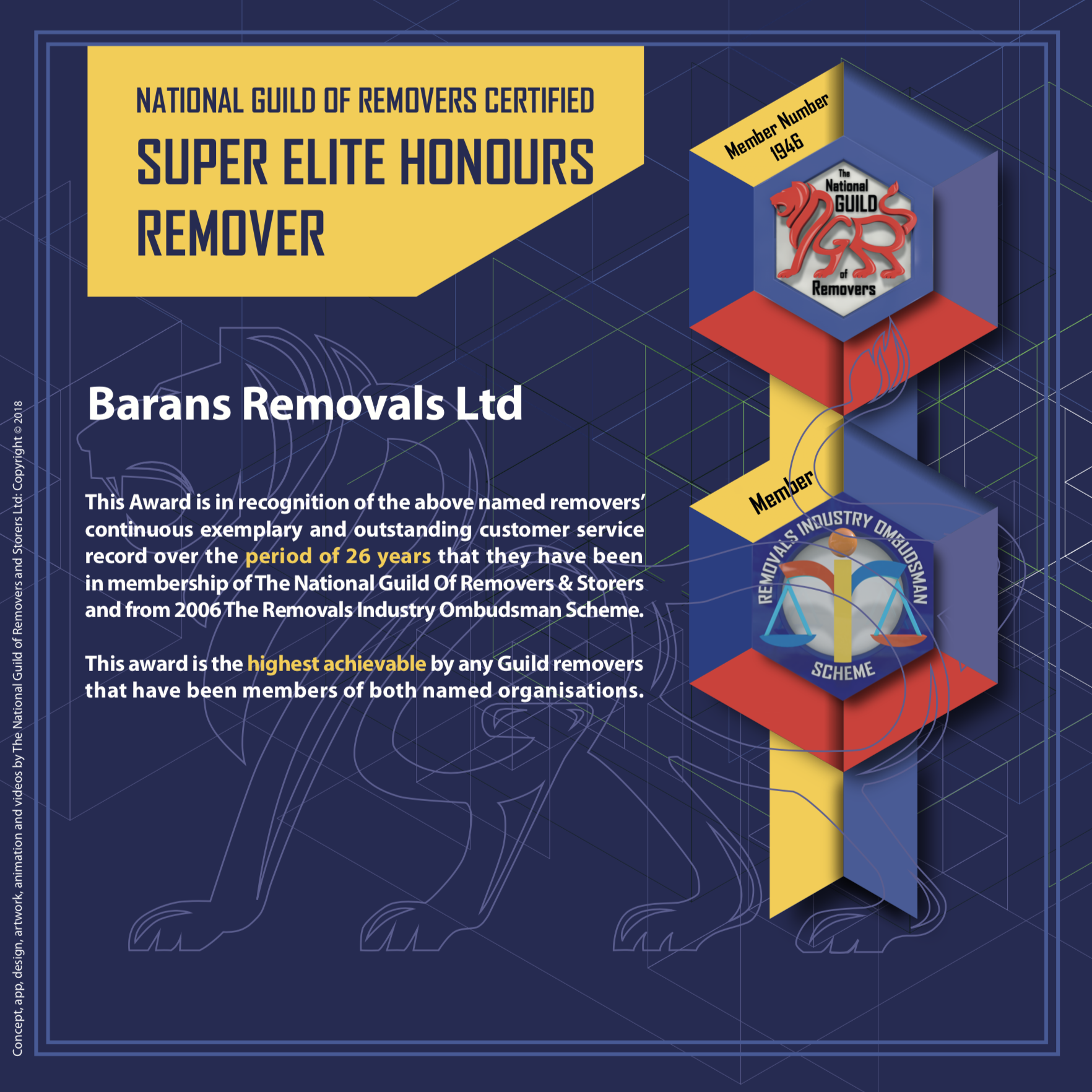 Find the Best Removal company in Addlestone
With over 40 years in the industry, Barans Removals are one of the best providers of residential, business and international removals in the Addlestone area. We offer a first class service to customers throughout Surrey, Hampshire and throughout the UK.
Our experienced teams will be on hand to carry out your domestic removal throughout Great Britain and Europe, whether just across the road or to the furthest, hard to reach places. We will tailor our service to meet your exacting requirements.
Barans Removals will also take care of your packing and dismantling ensuring that all delicate items and bulky furniture is properly secured ready for transport. Alternatively, we are happy to provide you with any packing materials you require to do this for yourself.
We offer full and part Household removals which are undertaken by our trained, polite teams who are equipped to carry out any task that they might come across.For those with a delay in moving we offer secure storage to hold and protect your items whilst access to a new property is being arranged.
You can be rest assured, that when you decide to choose Barans Removals to undertake your removal in Addlestone, you will be making the right choice every time. There are many satisfied customers who will agree to that, please take a look at some of our customer reviews.
Removals Company in Addlestone

We believe in offering an honest and hard working team for your Addlestone Removal. Each team will have a foreman who works alongside you to make your removal as easy and straightforward as possible. Our teams are briefed about what is involved with your move in advance and will treat your possessions like they wouldtheir own.
Not only do we have the best people, but we also have the best equipment also. Whatever the size of your move, we'll handle it safely and efficiently. The best removal company in the UK.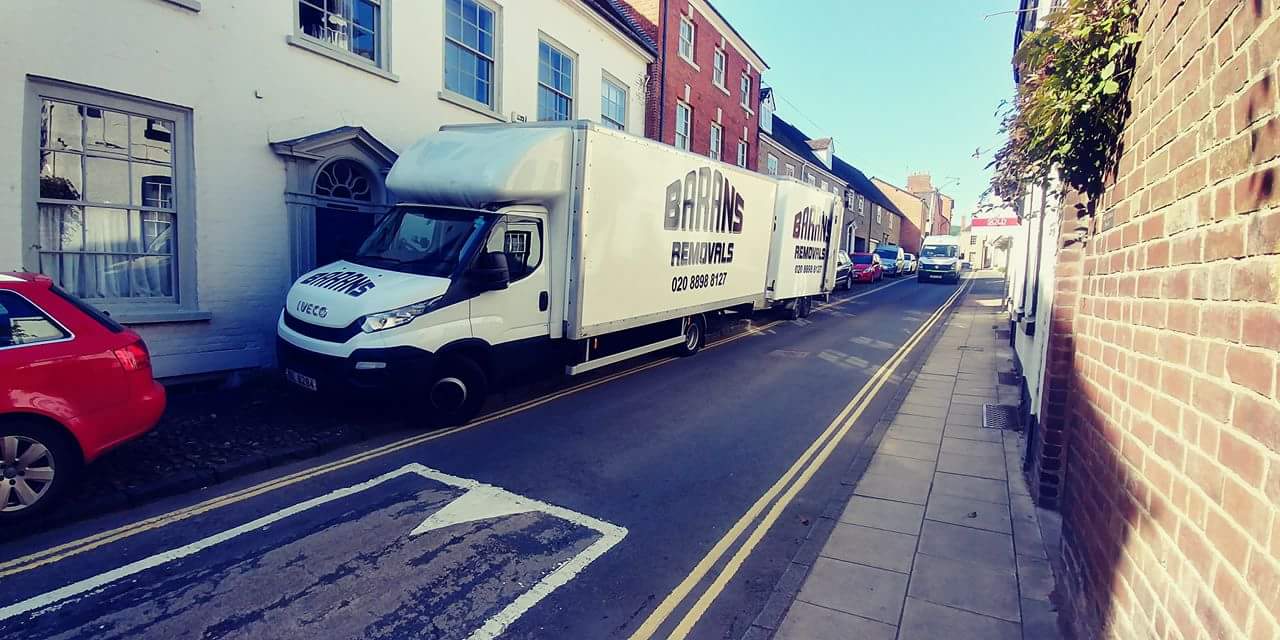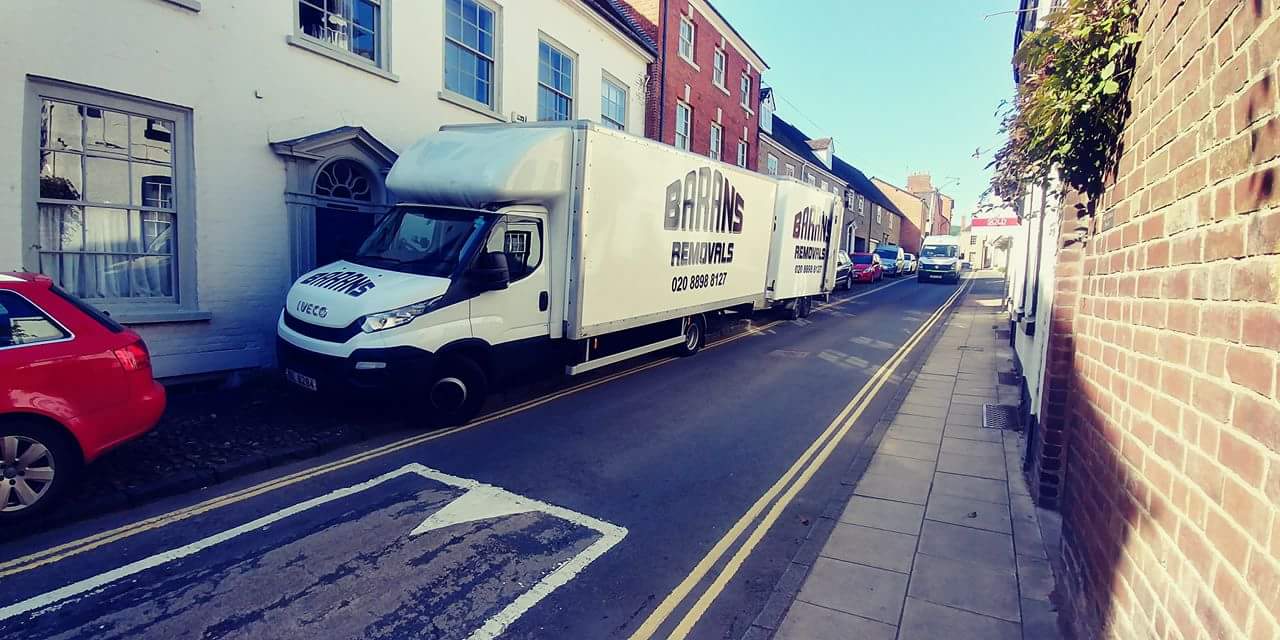 Facts about Addlestone
Addlestone, including St George's College's grounds of Woburn Park and the remaining farms and water meadows designated Green Belt were the western strip of Chertsey Manor or Chertsey Beomond Manor (to distinguish it from others), possessed by Chertsey Abbeyfrom the grant of land by Frithwald, subregulus of Surrey, at a date between the years 666 and 675 CE until the Dissolution of the Monasteries.
Adam de Woburn lived at Woburn Park in 1260
Only thirteen years after 1537 the Crown was content to lease the land rather than continue with a steward (office) so Sir William Fitz William (later his widow) held the whole Chertsey Beomond manor from 1550–1574; later Sir Francis Bacon held it for the infant Charles I who granted it specifically for his Queen, Henrietta Maria (of France). During the Commonwealth of England, the government sold the manor to William Aspinall who sold 292 trees of Birch Wood there for the Navy; however taken back by the Crown at the Restoration of the monarchy and the first of many leases was granted; the first lease was to the first Lord Holles. For example, from 1779–1803 the Duke of Bridgwater held it and from an unknown date until 1827 the British Commander-in-Chief Prince Frederick, Duke of York and Albany, famed for the nursery rhyme and the Duke of York Column by St James's Palace and Carlton Terrace was tenant of the lands.
In the 1740s, the famed gardener, Philip Southcote, chose to construct a two-storey house. Now a Grade II listed building, it was also named Woburn Park, with an original ornamented farm (ferme ornée) on Woburn Hill with fields for cattle or crops, decorated with statues, grotto, vases, temples, archways and other features, much of which survives as part of St George's College. The subsequent owners of Woburn Park were: